How Much Does It Cost To Start A Food Blog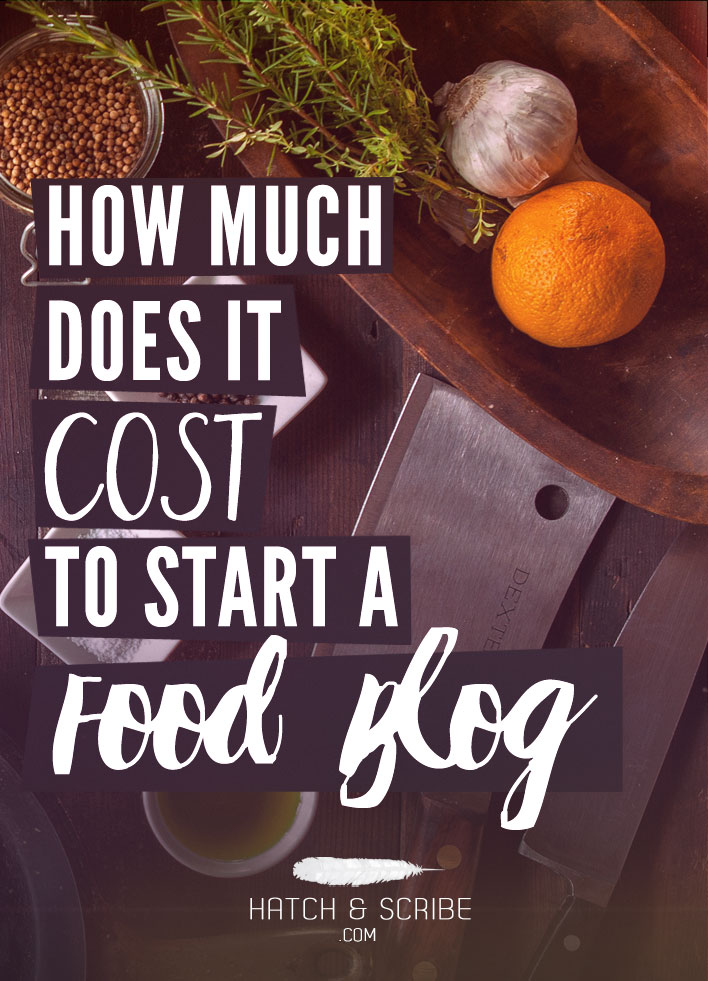 To start a food blog today, you are only going to spend $3.49 – $5.95 a month that's it. Which is pretty cheap to get your own personal food space online, and who knows what that can turn into – a food blog empire, an online kitchen studio, a maker of popular cooking books, or a creator of a line of kitchen goods.
I've divided this post up into two parts. The first part goes over what you'll need when just starting a food blog. The second part of this post lists out the add ons you'll need once you've been blogging for 2-3 months – to help take your blog to the next level.
Part 1: The Minimum Dose – Getting Started
When it comes down to it, you really only need two things to get your food blog up and running today 1) a domain and 2) hosting. Other than that, the only other thing you need is food – whether you are cooking yourself or reviewing other peoples food.
A. Domain and Hosting
To set up your food blog right now, you are going to need a domain name and hosting. Together this will cost you between $3.49 – $5.95 a month.
What is a Domain
For people to be able to find you online, you need to have an address i.e. www.mynewfoodblog.com, this is called a domain.
A domain will usually cost you $10 – $16 a year. But you can get a free one with your hosting.
What is Hosting
All of your computer files are stored on your hard drive. Your food blog also needs a place to store all of its files (pictures, text, etc) and make them accessible to everyone around the world who visits your site.
This is where a host comes in. You pay them to store your blog's files. Every time someone visits your blog, your host sends the files to their browser.
Setting Up a Food Blog
When you have your blog name ready, head on on over to BlueHost to see if your domain name is available.
If it is, you'll then be asked to choose a hosting plan. In the picture below you can see the Starter Plan that costs $3.49 a month.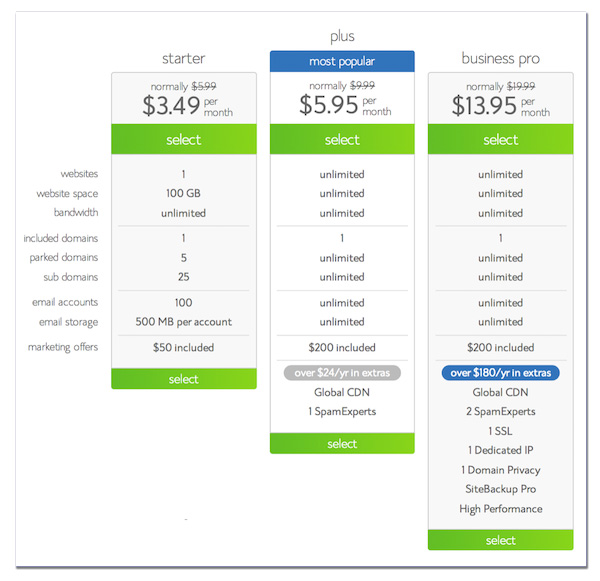 This is the plan I'd recommend. It costs $3.49 a month if go for 36 months, and $5.95 if you go for the 12 month plan. These Starter Plans are all paid in a lump sum, saving you money. With these plans you get domain name for free.
I use BlueHost for Hatch and Scribe and my home design blog Home Tree Atlas – Bonus: you get a free domain name with them. Start your own blog with the Starter Plan for only $3.95 a month.
Why Not Go Create a Free Food Blog
There is the option to save money by creating a free blog on WordPress or Blogspot. But it is not worth the hassle. Anyone who is really motivated to start their own food blog, will want to own their website – which you don't when you use a free blogging platform.
It looks more professional when you have your own domain name, instead of using a free service: mynewfoodblog.com vs. wordpress.mynewfoodblog.com
You also have more control over your blog: the look and design, and you can put up ads if you want.
When it costs only $3.49-5.95 a month, it is definitely worth it to start out with your own professional blog, on your own domain.
B. A Budget for Food
You can't have a food blog without any food. Most food bloggers create their own recipes and post them onto their blog. You also have bloggers who go out and eat in different restaurants and cafes and review them. Either way, you'll need a budget for this.
Say you are starting a food blog where you will be sharing your recipes. Here are some questions to help you create a budget:
How many recipes do you want to be sharing a week?
Will you need extra ingredients so that you can experiment with the recipes you make?
For a lot of newbie food bloggers this cost is usually just part of your weekly grocery budget. So there will be no added cost here. Once you get going with your food blog, you might want to start experimenting more (which includes failed dishes) with different ingredients, and kitchen tools – which you want to budget for.
Part 2: The Polished Blog  (Which Can Wait After 2-3 Months of Blogging)
Why should you wait 2-3 months before adding these bells and whistles to your blog?
First of all, you've just started your blog and you should focus on getting the hang of creating posts. Try and at least post twice a week for your first 2-3 months – that way you'll have 16-24 posts.
All of these extra things that you can add to polish your blog will suck you in and take time away from writing your posts. Once you've got the momentum going with your food posts (after 2-3 months), then start working your way down the list of these items.
1. A Premium Theme – Up To $50: You can start tweaking and thinking hard about how you want your blog to look. A premium theme will cost you anywhere between $3 – $50. ThemeForest has the best selection. Shiroi Hana is a great WordPress theme for a food blog: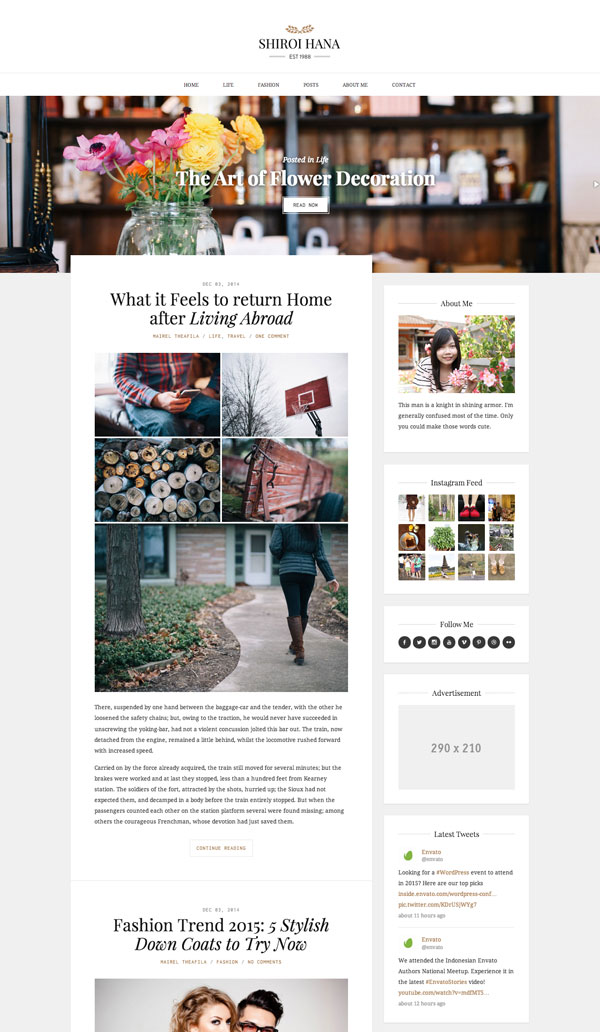 2. A Semi Professional Camera $450-$550: To really take your food blog to the next level, you are going to want to get as good as you can with photography. It is how food blogs spread. People pin and share your photos. It's what gets people's attention and makes them come to your blog.
You'll want to have a DSLR camera. These types of cameras let you control all of the settings when it comes to taking a photo. You will also get great depth of field (the background goes blurry) making your photos look professional.
For someone starting out in photography, I would recommend getting a Canon DSLR. The Canon Rebel T3i would be the right camera for a food blogger looking to start taking professional looking photos. You find it here.
3. Photography Props $50-$150: To make your photos look great, you are going to need some props.
It will come down to the style you want to create. Use a lace table cloth and a French style plate if you want to create a vintage look. Or simply use a good looking background (reclaimed wood), and display your food on an elegant white porcelain plate – add in a few raw ingredients around your dish as extra props.
Creative Cloud $29.99 per month: Once you start getting into semi professional food photography, you are going to need a way to edit those photos. Photoshop is the go to choice here. It might seem a bit daunting at first – but it is easy to get going.
Use it to edit the lighting and colors of your photos
Use it to resize your photos for your blog
Use it to add text and graphics over your photos
Backup $5 per month: If you've gotten to this point, it means that you are on your way to being a power food blogger.
You'll have quite a few posts on your blog after 2-3 months of blogging. And now you are upgrading your blog with a premium theme and great photography.
So now will be the time to start protecting all of your hard work, by using a backup service such as VaultPress. For $5 a month, Vault Press will back up your blog daily. If anything goes wrong (you get hacked, you accidentally make changes that mess up your site) you can get your food blog back up again.