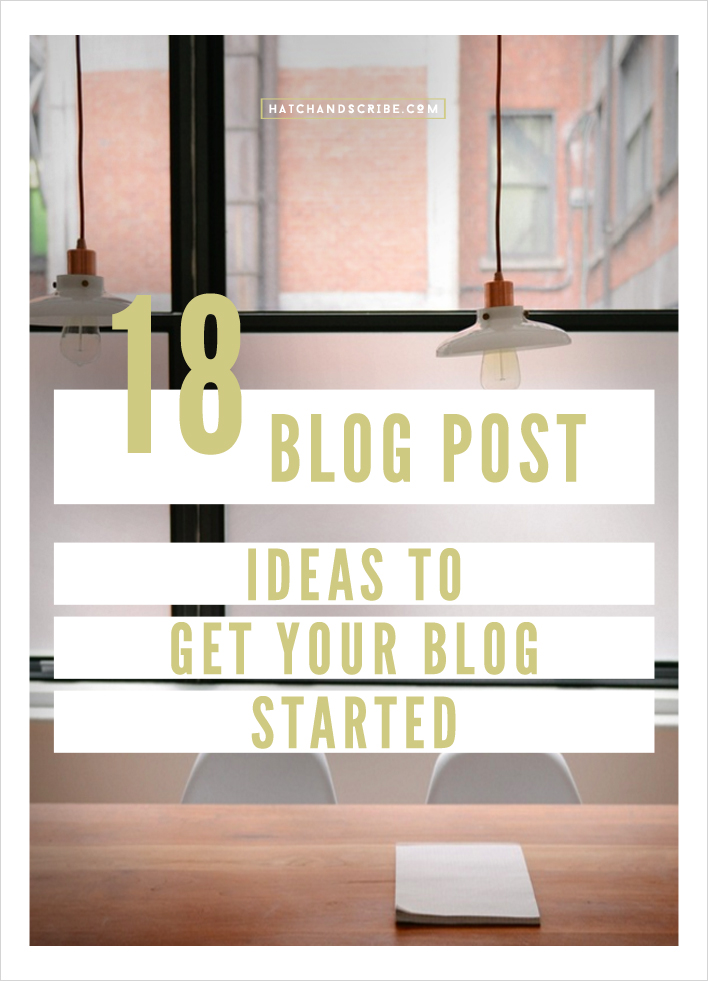 Once you've done the technical part of setting up your new blog, the next step is to start posting.
Posts are the life blood of starting any blog. And I see too many new bloggers give up too soon.
The best way to overcome an early exit is to plan out 10-20 posts that you want to write. And get writing. Because once you have written these posts, you will have felt that you have invested your time and energy into your blog and won't want to give up.
Don't be checking stats, playing around with your blog's design, or spending your time on social media. Focus on getting posts published.
All of the first blog post ideas below can be catered to the topic of your blog.
Unique and Creative Blog Post Ideas
1. Create a post showing a personal behind the scenes look of your blog and or something related to your blog. If you are a photography blogger then show your camera set up, how you organize your closet if you are a fashion blogger, or show off your kitchen if you are a food blogger
2. What's in your.. (camera photography bag, makeup bag, closet, kitchen, travel bag, on your desk)
3. Do an Interview on the subject of your blog, starting with close friends and family
4. Share a list of goals (related to your blog) that you have for the next 6 months
5. List out related blogs that inspire you
6. Create a weekend tutorial – whether it is a recipe for a food blog, organising tips for travelling, putting together a dinner date outfit, a beauty tutorial post, a fitness workout routine, or a home DIY project
7. Share a round up of your new favourite pins that you have found this week about your blog's subject
8. Do a review of something you've bought recently or something that you use often – relating to your blog
9. Share the 5 items that you can't live without – relating to your blog's topic
10. Create something that solves a problem for your readers – a packing list for techie/women/men/family travellers, a kitchen hack, a closet essentials checklist, a camera DIY, fitness hack
11. Share a round up of the best and popular videos (Youtube) on your subject
12. Create a gift ideas post for people who are into your subject
13. Write a post title along the lines of 'How to Organize ______'
14. Dream big. If money was unlimited, share what would you do (relating it to your blog's topic). "My Dream Kitchen", "My Dream Travel Destinations"…
15. Write up a list of things you wish you knew about your topic when you were ___
16. Create a post on what people should avoid doing – or what people are overdoing in your subject
17. Create a fun photo list post. Here are some simple and creative ideas: 10 Photos of Delicious Lasagnes with White Sauce, 12 Photos That Will Make You Want to Visit (Your home town), 8 Photos of Stunning Home Workshops, 9 Photos of Perfectly Curated Closets. You can find these images on Flickr, or embed Instagram photos into the post. You can change the title of the post from 'photos' to 'pins' and use pins from Pinterest
18. Share the meaning behind your blog's name – and why you started the blog. These are the questions I ask people when I am helping them come up with their blog name (How To Brainstorm Blog Name Ideas You'll Love)
More blogging posts for beginners: